Autonomous Underwater Vehicles (AUV) and Un-manned Surface Vehicles (USV) are employed extensively in many underwater research and surveillance applications. Equipping these platforms with a sensor array, such as a linear towed array, would enhance their object detection and localization performance. The towed arrays for these platforms have to be lightweight and small in diameter. We have been working on the development of lightweight arrays for several years, focusing on both ceramic-based sensor technology and fibre laser sensor hydrophone technology. The Digital Thin Line Array (DTLA) is a linear array developed for use with unmanned underwater or surface platforms for surveillance applications. The following are some of the highlights of the DTLA:
Click edit button to change this text.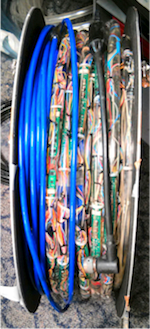 The array, along with its data acquisition system, has been integrated and tested with several AUV platforms, including our own STARFISH AUVs. The capability of DTLA to detect and track underwater acoustic sources using an AUV has been tested out in the field. The system has also been employed successfully in seabed characterization studies. The other possible applications include:
Fiber Laser Hydrophone Array
Distributed Feedback Fibre Laser Sensor (DFB-FLS) hydrophone technology is yet another attractive candidate for building lightweight towed arrays. We have successfully developed DFB-FLS hydrophone prototypes, which can give good detection performance up to 5 kHz. These hydrophones are pressure compensated up to 50 m depth and exhibit sensitivities at par or exceeding those of conventional hydrophones. Efforts are now underway to build an array of these sensors for an AUV-based object detection and tracking application.